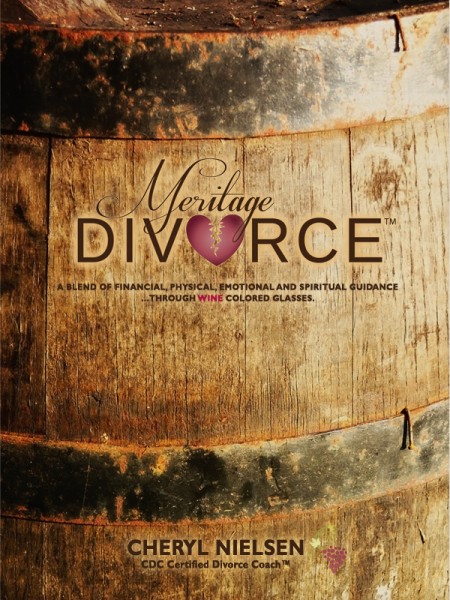 Today I am hosting Cheryl Nielsen author of the book entitled Meritage Divorce: A Blend of Financial, Physical, Emotional and Spiritual Guidance…Through Wine Colored Glasses now available on AMAZON.COM for her book tour!  I was given the opportunity to be a  contributing author on the subject of courage and write a review.  I am very excited to introduce the book.  Here is a peak of what's inside:
Divorce can shatter everything we have ever known, but it can also liberate us from a deeply unsatisfying life and offer healing. In Meritage Divorce, Cheryl Nielsen shares her advice for picking a divorce support system, caring for yourself, and using this time to re-align with your authentic self. In this humorous and sexually charged memoir, she serves a generous pour of her personal wisdom to support you through the financial, physical, emotional, and spiritual challenges you may face. She shares her struggles, spiritual lessons, and chance at love again. Written in wine metaphors, from her vineyard experience, Cheryl delivers a divorce guide for the wine lover. You'll find a new and improved version of yourself on the other side of the journey making divorce a transformational opportunity. Even if you are not in the midst of divorce, it is a story of overcoming loss, having the courage to preserver, and using the challenges of painful experiences to learn and grow.  Cheryl came to look at the experience of divorce as "a chance of a lifetime" to learn to tap into her internal intuition, and increase her faith and spiritual awareness.
This is recommended reading for anyone facing loss, going through life changing challenges, pursuing self-discovery, taking care of oneself through stressful times and learning to embrace the miracles in life.
No drop from this pour goes to waste!  You can get intoxicated just reading it!"  – Debra Oakland, Living In Courage Online
One of my favorite quotes in the book is "Courage is fueled by the motivation to take the first step into the unknown." -Cheryl Nielsen.  To enter the drawing to WIN A FREE PAPERBACK , post your definition of courage on the Meritage Divorce Wine Tasting Book Launch Tour Page here: ENTER THE DRAWING AT http://meritagedivorce.com  The post should be one sentence about courage.  The winner will be chosen that comes up with the most unique answer!  Winners will be announced tomorrow!
Enter to win contest at this link:
http://meritagedivorce.com
More stops coming – stay tuned!!
Announcing the winner of the Meritage Divorce book launch drawing – Ande Lyons, CEO & Founder at Bring Back Desire – your daily destination for sensual pleasure www.bringbackdesire.com.
Congratulations Ande we are inspired by your definition of courage – "Courage is tenacity and hope rolled up in faith.  Whatever life obstacles cross your path, courage helps you stay true to your inner compass and keeps you moving forward with love" – Ande Lyons.