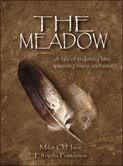 "The Meadow" Is a novel about love, that covers many thousands of years.  A Tale of undying and eternal love, demonstrating the interconnectedness of the Universe through the expression of two people who live many lives over thousands of years. The authors Mike O'Hare and Elfreda Pretorius come from different continents and knew nothing about each others existence. Details of their story is below, and reads like a novel itself.  I encourage you to read this amazing book of intrigue, meaning of life, eternal love , spirituality, mystery, sex and much more.  Talk about Living in Courage!
Overview of The Meadow
The Meadow is a passport into other worlds, allowing the reader to travel to ancient destinations whilst remaining in the safety and comfort of an arm chair. Philosophically, it is a tale of the struggle between Light and Dark, personified in two root characters that meet and fall in love in antiquity, only to discover that life is imperfect and far too short.
The tale of The Meadow assumes that we slip through the trapdoor of death to live again and again to continue experiencing the magnificent spectrum of emotions and polarities of more lives which enable us to grow spiritually, mentally and emotionally. Precisely how the soul is molded over eons into a sentient being with the ability to feel and experience is a closely guarded secret of Creation. Yet, there are instances of refined consciousness, capable of traversing heavenly realms, which have discovered the Meadow, ingeniously hidden in the astral level or Middle Place. The story of Teuch and Anacaona's love is woven around just such a concept, daring the reader to delve into the possibility that all is not as it seems and that we bear a solemn responsibility to live our lives in as much consciousness as we are capable of.
Swathed in primordial mystery, the story blazes a trail through four devastating lives and personalities, from ancient Mexica to contemporary Pakistan, before luring the lead characters into the twenty first century, where we meet them as Steve Ballantire and Eva Norman. But they do not arrive here alone. Obsessed with revenge many centuries old, their nemesis, representing the Dark side, is in hot pursuit of the protagonists.
The intrigue intensifies when the British authorities express an interest in Hugo, the brilliant child of Eva, and snatches him and his mother from the clutches of 'the evil one' in Tel Aviv, to place him under the tutelage of  Steve Ballantire, an esteemed professor based in North East England.  Due to this intervention of MI6, the lead characters finally meet in this life. However, their fanatical adversary yet again follows them to England, leading to the devious abduction of Eva and resulting in a nerve-wracking international chase across the world; climaxing in the Himalaya Mountains. It is here where a small, but remarkable monk begins to lead the story back to its roots in antiquity, and the boundaries of time are finally erased. Inevitably, ancient identities of past eras emerge into full awareness to force the final cosmic showdown.
Steeped in symbolism and mystery, Hugo, a mildly autistic savant, unravels the enigmas of the story and reveals his understanding of our universe being based in mathematics. The Tibetan monk and the boy independently confirm the existence of the celestial halfway house known as the Meadow, and this leads to Hugo locating star gates which demonstrate the absolute interconnectedness of everything.
This tale is of an ancient dream that had awakened into the twenty first century, where from the smoldering embers of antiquity, it snaked a path through centuries of unspeakable violence, impossible sacrifice and incredible passion to find its way back into the lives of Steve and Eva. Through the trials and tribulations of the characters in the book, the readers are subtly invited to investigate their own lives and evaluate the possibility of having lived before. But that is not where it ends.
Drawn together by unusual circumstances to tell the story of The Meadow are two strangers who live on separate continents. As they created the tale, the authors peered through the kaleidoscope of life, and slowly turning the lens, they wrote about sex, violence, intrigue, betrayal, murder, mystery, politics, religion, suspense, science and physics, spirituality, and even magic. The jury is still out on whether the authors wrote their book from actual memory, or if this all springs from very fertile imagination.
The Meadow is comparable to "The Thornbirds" by Colleen McCullough and "Pillars of the Earth" by Ken Follet. The book will appeal to female readers of adult age and interest the growing number of people around the world (male and female) curious about exploring the possibility of life continuing on beyond death.
ABOUT THE AUTHORS
A remarkable aspect of The Meadow is that the authors hail from separate continents and for most of their lives knew nothing about each other's existence. By the time they had completed their mega manuscript they had still not laid eyes on one another and, given their life circumstances and vocations, even a chance meeting was a most unlikely possibility. Yet, with Mike O'Hare who is from North East England and Elfreda Pretorius, who resides in Canada, an interesting but powerful force was at work which would dictate almost three years of their lives. In 2005 an unusual meeting of minds set the scene for an ambitious project that neither author could have foretold, even if they had had a crystal ball.
Mike O'Hare began his career as a compositor in the newspaper industry but with an inherent love of writing, the pen always lay alongside the setting stick/Linotype keyboard and he soon began contributing short editorials for his local paper. In 1969 when Neil Armstrong stepped off his moon ladder, "one short step for mankind" became the foundation for Mike's article, which set a trend for years to follow, during which time he wrote a series of short pieces for magazines and newspapers.
In later years he lost heart for his trade as it evolved into the electronic era and transferred from the production side of printing to the excitement and trappings that sales offered. Eventually he brokered his way to a comfortable existence and retired early to nurture his love of writing and concentrate his creative efforts on an idea that had taken root in his mind when he was in his late teens. Fearful of ridicule, the idea remained a closely guarded secret, but an unusual meeting with a stranger would soon lead to its blossoming into The Meadow.
Elfreda Pretorius's field of expertise is communication, expressed in writing, coaching and teaching. As a best selling author in the self-help industry (Stop Struggling and Start Living –  Rules of the Game), she demonstrated her grasp of the human psyche through authoring this book which has become a powerful tool to help change the games of others along with its companion workbook, Ten Truths from the Top of Table Mountain.  Due to popular demand, a self coaching program based on the book will soon be available for download from her personal web site:  HYPERLINK "http://www.elfredapretorius.com" www.elfredapretorius.com.
Similar to Mike, she is intensely interested in the world, the dissemination of accurate information and the evolution of man as he is subjected to various schools of thought. They became acquainted via the Internet, on a web site where just such a meeting of minds was in progress and very soon slipped into a wonderful friendship, as comfortably as one would slip into an old pair of jeans. She learned of his wonderful idea for a book, and spontaneously offered to help him dip pen in ink. Due to a pressing workload, her plan was not to linger for too long, but she never left the project. Through the confluence of their combined creativity The Meadow developed into a narrative neither could have imagined in their wildest dreams.
The entire novel was written via the Internet, through an exchange of ideas and thoughts that defies accurate description. Both authors were aware of a creative force at work in the two and half years that it took to complete a project of which they feel very privileged to have been a part.
Links to "The Meadow"
http://themeadownovel.wordpress.com/
The Meadow Group Fan Page http://tinyurl.com/ylks9qo
Amazon links for UK, US and Canada to purchase the book. Also available on other Amazon sites, as well as all main on-line stores
http://tinyurl.com/ntqluz
http://tinyurl.com/nfnlyx
http://tinyurl.com/l2e5qf