Human Trafficking is the world's fastest growing and most deadly enterprise.  Why?  It is more profitable than drugs, guns and jewels. Aaron Cohen is on a global quest to free victims of human trafficking and the slave trade.  His new book Slave Hunter tells his remarkable story in detail.  Few people have the courage to walk this road.  I have unspeakable admiration for Aaron and the work he is doing around the globe.  Going from living the life of a rock star, years of drug addiction and party life to spiritual awakening was the beginning of this long  journey.  Aaron Cohen has walked this journey with his longtime friend and business partner Perry Farrell (Jane's Addiction), as well as many other amazing and courageous people.
Young Slave Baby with Aaron Cohen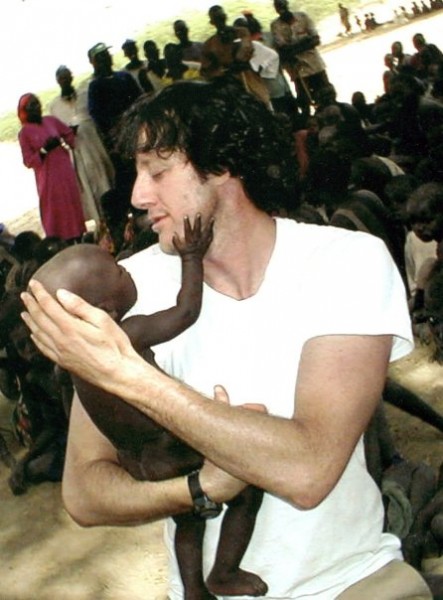 There may be as many as 27 million people enslaved today with around 800,000 new victims trafficked across international borders each year. Around 17,000 of these are brought annually into the U.S.  Aaron Cohen has dedicated his life and his new book Slave Hunter to the victims of human trafficking and modern day slavery.  Aaron is one person who is out there proving that each one of us can make a difference when we follow our heart.
Please read this article written by Christine Buckley who collaborated on Slave Hunter.  It gives you a taste of a life that few of us are familiar or comfortable with.  Click here for the article –  Aaron Cohen:  Sex Slaves, Drug Trade and Rock N' Roll
Debra Oakland @ Living in Courage Online
Link to buy Slave Hunter by Aaron Cohen with Christine Buckley
Link to Causecast for all things Aaron Cohen – Updates, Video, Photos, etc.
Link to Aaron Cohen Wikipedia Page
Link to Abolish Slavery Coalition
Link to Preventing Abuse Conference Sept 12th and 13th 2009
Link to Causecast Article by Jonathan Harris – Slave Hunter: Aaron Cohen, 21st Century Emancipator