I have met a wonderful woman on Facebook this week. Her name is Jane Monica Tvedt and she is a wonderful artist who is assisting in an  Art Auction for the Children of Malawi on June 11th 2009. Living in Courage would like to support this endeavor for the children by spreading the word online.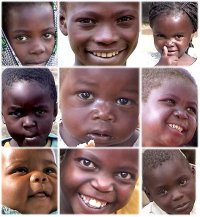 The well known Erik Thorstvedt will be in charge of the auction.  Behind the auction are independent distributors of Nourish The Children product. The aim is to get money to support as many children as possible one year ahead. They are already setting a goal to have one art project a year to raise money for people who are suffering.
I am posting two You Tube Video's (click on Read More below to view) from "Empire of Heart Norway" about the auction and the children of Malawi.  The paintings in this video will be at the art auction June 11, 2009. The sale of the painting will go to the children in Malawi.
If someone would like to put in a bid on the art, please contact Inger Elise – Lege
Mail: hel.se.hel@gmail.com
Video by Jane monica Tvedt – Empire of heart – http//www.empireofheart.com
Music by Sarah Mclachlan –  What Child Is This?
Music by Enya – Stars and Midnight Blue