I received a comment today one of my Living in Courage readers Mary, asking for an update on Randy Pausch's wife Jai and the children. It has been almost a year (July 25th 2008) since his passing. During Randy's illness with pancreatic cancer, I had frequent updates (archived in Courage and Archived Video's) here at Living in Courage Online.  For the entire journey go to Randy Pausch Updates which ended the day of his passing. We continue to send love to the Pausch family.  Our hearts go out to them at this time.  You will find a photo and article below from People Magazine online.
There is a very extensive article on Randy Pausch, his family, Carnegie Mellon University and the many Tributes to Randy's life at this link: THE CARNEGIE MELLON COMPUTER SCIENCE DEPARTMENT, AS TOLD BY PETER LEE.
There is The Lost Chapter entitled The Bridge to Randy Pausch's book "The Last Lecture" which was dropped from the book before publication.
Jai Pausch on the cover of People Magazine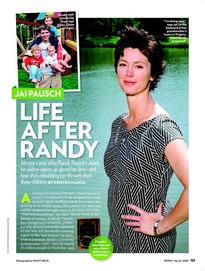 May 25, 2009 Vol. 71 No. 20 Jai Pausch Life After Randy By KRISTEN MASCIA
Almost a Year After Randy Pausch's Death, His Widow Opens Up About Her Loss—and How She's Rebuilding Her Life with Their Three Children
At Disney World last February, Dylan Pausch, 7, smiled triumphantly as he wrapped his arms around a giant stuffed animal, his reward for scoring in an arcade game. His passion for winning cuddly creatures brought tears to his mom Jai's eyes. "That was something," she says, "Randy loved to do." Randy, of course, is Randy Pausch, the contagiously optimistic professor who died of pancreatic cancer at 47 but who left the world a moving legacy in the "last lecture" he delivered at Carnegie Mellon University in September 2007—seen by nearly 10 million people on YouTube—and his bestselling book. Now, 10 months after his death, Jai, 43, is making her way, even as she copes with still-raw grief. "The knot in my chest has subsided," she tells PEOPLE in a rare interview, speaking partly in response, she says, to the many letters she gets from strangers asking her how she's doing. "The pain is there, but life is going on for us."
Not without a struggle: Still fresh in her memory is the excruciating moment on July 25, 2008, when she broke the devastating news to the children—Dylan, then 6, Logan, 3, and Chloe, just a baby. "I said, 'Daddy didn't want to die; he loved you very much,'" Jai recalls. "It was awful." Their reactions were heart-wrenching. "Dylan said, 'Well, I'm the next to die in the family,'" Jai recalls. "I had to reassure him, 'You're not gonna die.'"
At first she made a daily habit of watching Randy's lecture about his childhood dreams and what he'd learned about life. "I needed to see him, watch him move, hear his voice," says Jai, who was earning her master's in comparative literature when she met Randy, a guest lecturer, at the University of North Carolina in 1998. "But it was like tearing the scab off every time. I had to stop doing it." These days she channels her energy into fixing up their Virginia home, where they moved shortly before Randy's death to be closer to her family. "I've ripped out the vanity, wallpapered—I need something to squirt me in the face," she says with a chuckle. "When I'm depressed, I've found plumbing really works for me."
Her greatest joy is watching her children march forward, as children do. "They've been so resilient," says Jai of Dylan, a budding scientist; Logan, now 4, a Batman enthusiast; and the proudly toilet-trained Chloe, 3. Recently, with Jai's help, they planted a garden. "Jai's doing what Randy knew she'd do: raise them right," says Randy's coauthor, Jeff Zaslow. "She's one of the strongest women I know."
And one of the busiest. Despite her hectic schedule, she has recently taken up tennis—"I have to be engaged, so I can't think about making dinner or the anniversary of Randy's death"—and has started making new friends. Some years from now, when the kids are ready, she'll show them the lecture. "It's Randy in a bottle," she says. "They'll get to see their father at his finest. That's a wonderful gift."
I think of what we could have had and wish it would have been —JAI PAUSCH