I met Alan Cohen many many years ago, and loved to hear him speak in Southern California.  This story is about forgiveness – a vital part of any healing.  My beautiful son Wade was killed by a drunk driver.  I know something about forgiveness.  Please enjoy this story as you look into your heart to find what is unforgiven. Once you release and forgive, you will find your life opening to miracles. This takes courage, but isn't that why you are here?
Debra Oakland @ Living in Courage
Here is Alan's article and photo.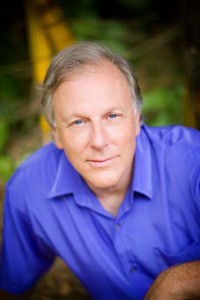 A young Japanese man named Shui was riding on a crowded train when a belligerent drunk made his way through the train car and began to rough up passengers. Shui had studied martial arts for many years, yet never before had he been forced into a public confrontation. Shui felt his blood begin to boil, and realized the ruffian needed to be stopped before he hurt someone badly.
Shui stood up, blocked the fellow's path, and the two exchanged angry words. As the men were about to square off, Shui felt a hand on his arm. He looked down and saw a frail old man. "Let me handle this," the elder insisted.
Shui watched in amazement as the old man invited the heavy to have a seat next to him. Strangely, he acquiesced. The elder began to engage the fellow, asking him questions about his life and looking him in the eye with kindness and compassion. After a while the thug confessed that his wife had just died and he was in great pain; he had gone out and gotten drunk to numb his agony. The old man placed a comforting hand on the fellow's shoulder, and he began to weep. Before Shui's eyes the intruder was transformed from a villain into an innocent child.
When the train arrived at the next station, the tough guy thanked the old man and exited the car. Shui, stunned, sat down next to the old man and asked him, "Why did you stop me?"
"You were about to meet that man's violence with your own," answered the old man. "In true martial arts, if you hurt your opponent in any way, you cannot call your act a victory."
We have all encountered people whom we feel we must protect ourselves from. Yet there is a way to keep ourselves safe without hurting others. It is the strongest way to protect our peace. Although we have been taught that we must wield pain as a weapon to keep others at a distance, it is not so. We gain all together or not at all. To wish ill upon anyone is to hurt ourselves.
I used to visit a prisoner named Ron. Years earlier, in college, Ron had a girlfriend named Jen. One night the couple had an argument, and in a fit of rage, Ron beat her up. Tragically, she died. Ron was convicted of manslaughter and sentenced to many years in prison.
I met Ron when he was up for parole after nine years of incarceration. In contrast to his violent act, I found him to be a gentle soul. He was contrite about his crime and he had used his time in prison to advance his spiritual growth. Ron studied A Course in Miracles, he was active in the prison church, he was liked by the other prisoners and staff, and he had worked his way up to a responsible position managing the prison laundry. When I visited Ron, I sensed no cruelty in him and he certainly did not seem like a dangerous criminal to me.
Ron told me that he had been denied parole repeatedly because Jen's parents had mounted a citywide campaign to keep him in jail. Each year when Ron was eligible to be released, Jen's parents took out newspaper ads, exerted their political influence, and orchestrated a concerted community effort to "keep this killer off the streets." Yet, looking at this man, I did not see a killer at all. I saw a basically good man who had made a heartbreaking mistake.
"So how are you dealing with Jen's parents?" I asked Ron.
"I send them love and prayer," he answered. "I understand that they are very angry and they must be in great pain. If I could go back and undo my act, I surely would. More than anything, I wish I could bring Jen back. But I can't. So I am just deepening my relationship with God right where I am and trying to be a blessing to the world."
As I left my meeting with Ron that day, I wondered who was really in prison. Ron was locked up physically, but his soul was soaring. Meanwhile, Jen's parents were quite wealthy and enjoyed unlimited physical freedom, yet they were consumed by anger and vengeance. It seemed to me that their wrathful thoughts were creating walls more formidable than those encasing Ron.
Because we are spiritual beings at our essence, what we do with our spirit influences us more profoundly than what we do with our body. Heaven and hell are not places we go or conditions the outer world imposes on us; they are experiences we create with our thoughts and beliefs. A Course in Miracles tells us, "I am affected only by my thoughts." Where our mind goes, there we are. The desire to hurt brings us instant pain, while the desire to heal brings us instant freedom.
If you are angry with anyone, or involved in a conflict, keep reaching for a solution that leaves everyone whole. If you feel you need to hurt someone or take something away from them to make things even, you do violence mostly to yourself. Instead of seeing them as a villain, regard them as wounded or calling for love. No one does anything mean or foolish unless they are in great pain. To try to inflict more pain only exacerbates their sense of disconnection. As you connect with your own sense of peace, you invite them to claim theirs. Only then can you say you have won.
About the Author:
Alan Cohen is the author of many popular inspirational books, including the best-selling Why Your Life Sucks and What You Can Do About It, the award-winning A Deep Breath of Life and his newest is the prosperity guide Relax into Wealth.
For information on this program and others, or to receive Alan's free daily inspirational quote and monthly newsletter, visit www.alancohen.com or email info@alancohen.com. For information and a free catalog of Alan's books, tapes, and seminars, phone 800.568.3079 or write P.O. Box 835, Haiku, HI 96708.