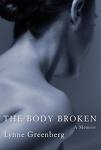 I am featuring and recommending a powerful book "The Body Broken" written by Lynne Greenberg in my April Newsletter for Living In Courage.  Millions of people live with chronic pain and all it's repercussions daily.  It takes a certain kind of courage to live this way while trying to live a productive life.  Many  of these people live with depression, pain, isolation. The suicide rate is 20% higher than in other patients. Lynne explains what it is like to descend into pain and then reclaim life.
I quote from Publishers Weekly "Twenty-two years after recovering from a devastating car crash when she was 19, Greenberg, a professor at New York City's Hunter College, began experiencing unbearable neck pain. Several hospital visits and X-rays later, it turns out her miraculous recovery after the accident wasn't quite that: one of her vertebrae was still fractured. Greenberg chronicles the two years that follow: the contradicting doctor diagnoses; the descent into drugs and depression; the unraveling of her relationship with her two young children. Harrowing stuff, and when Greenberg keeps her prose spare and direct, as when she describes with cold, gory precision watching her leg being sewn back together, the result is powerful. But Greenberg's account often reads like an extended treatise on pain, overly reliant on metaphor as opposed to anecdote to describe her experience, comparing it, say, to Adam and Eve's fall in Milton's Paradise Lost (Greenberg's field is 17th-century British literature)."
"
The Body Broken
" tells the story of solving the mystery of Lynn's chronic pain. I am sharing this book with you because of the
courage
it represents in one person's life. I hope those of you in pain will find some answers or possible solutions through Lynn's journey.  Even though Lynn still lives in pain daily, she draws on her family's support, who  have learned compassion and patience. This remarkable woman has many tricks up her sleeve to live her life in a most remarkable way. I see this as
Living in Courage
.
Diane Sawyer  from ABC News says, "We are all looking for lessons in courage. And family. And faith that some of our sweetest hours will come on the darkest days. All are here in Lynne Greenberg's razor-sharp memoir of life and pain and the miracle of a family bound together by love."
For all who live with pain, I hope you may be blessed with strength and
courage
.