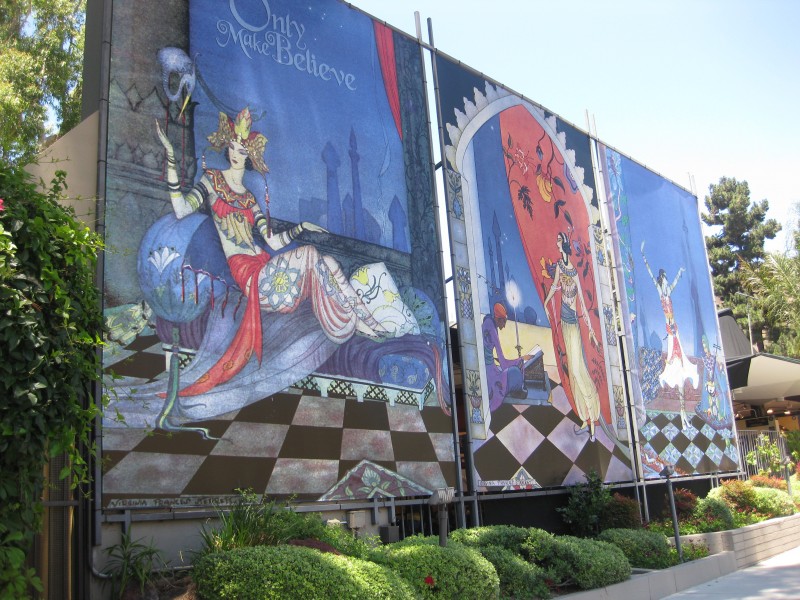 In this article, I am exploring the partnership of Inspiration and Motivation at the Festival of Arts in Laguna Beach, CA where I live.  I sat happily with my Kean coffee looking at the artists booths all around me that are filled with diverse art by very talented people. Festival of Arts has been home to the Pageant of the Masters since 1932 and attracts more than 250,000 people annually.  The festival has a reputation for fine art, and is recognized worldwide.  These 140 juried artists have to be very inspired and motivated to get into the festival, and to stay in the show from year to year.  Each year approximately 25 new artists are added to the art show.
The first delightful artist I spoke with was Betty Haight of Cunningham/Haight.  I asked Betty what motivated/inspired her and she told me, "Other people loving our art is what motivates me.  Another factor is selling art.  Our motto is "Art without commerce is a hobby." There is a story tag on the back of each painting, and the wood frames are from scrap wood from old cottages.  Betty is passionate and enthusiastic about her work, and it was a pleasure to visit her booth…I hope you will too!
I fell in love with Karin Worden's beautiful jewelry. There is a gorgeous necklace in Karin's booth that keeps pulling me back and enticing me!  Her work is exquisite. It is obvious that Karin puts her heart and soul into her work, so I asked her what inspires/motivates her in regard to her craft. "I'm inspired by the life I see in natural forms. The gestures and textures speak to me. I also love my craft of goldsmithing. So I get inspired by something in nature, or even sometimes a picture of nature, and then I mix that in my studio with the fun and adventure of what the materials can do. I choose gemstones for their colors and then play with textures and techniques in silver and gold. I love the process of bringing an idea to life. A fleeting picture in my mind evolves into something tangible that can last just about forever. I'm also inspired and moved by the responses my pieces get from others. When someone falls in love with a piece and buys it, it begins a new life with them. Often, I'll see a piece on someone two years later and it will look different – it has become part of the wearer and transformed in ways I could not have effected."
Wandering around the festival grounds I met Bill Agee who was a commercial photographer for 30 years, and now teaches photography at Saddleback College.  Bill's art is abstract/expressionism in acrylic on canvas.  As far as motivation, Bill said "Art makes me happy, I enjoy it.  I work independently and have made my hobby my profession." I viewed Bill's photography from around the world on his website and it is stunning.
Next I spoke to Anne England who is a longtime Laguna resident and artist.  Anne is a print-maker, who says "Art motivates art, and art motivates me.  Art comes from my heart and soul, it speaks to me." Anne spends part of the year teaching and creating new works on paper in Italy.  I met Anne after one of her return trips from Italy and found her a joy to interact with.
While talking to Anne, I met Geraldine who directed me to her husband Gar Cropser, a gifted and passionate landscape photographer. Gar's answer to being inspired and motivated was, "The love of the outdoors gives me a feeling of peace, awe and wonder that I want to share with others.  My goal is to be able to capture, experience and share my work with the world." Gar's photography of Zion and Yosemite (two of my favorite places) were very moving because he captures light beautifully.
I thank each artist for taking the time to speak with me, and may you each be blessed with a prosperous festival season.
Debra Oakland