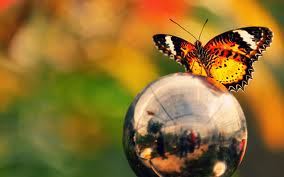 "Transformation is one of the greatest gifts we can give ourselves. Out of this gift comes transformation for all."  -Debra Oakland
Life is an ongoing activity of transformation. Spiritual growth helps us expand into our full potential. Change is difficult for people because stretching outside a comfort zone that has it's seemingly safe barriers, can be daunting. Now and then a voice in my head prompts me with, "Get Out of Your Comfort Zone." I have never been more uncomfortable than in the last few years as I ended one career to begin pursuing another. It has taken most of my life to go from searching for my passion to embracing it.
Like housecleaning, letting go of clutter and distractions feels good, especially after all the hard work is done.  Cleaning up negativity, gossip and judgement, which are really just fear based programs running in the background, feels really good!  Re-programming ourselves is possible, but realistically takes a good deal of work.  Before any negative thoughts become feelings which move into action, think about shifting them into positivity.
Momentum builds, negative clutter gets pushed out, leaving plenty of room for the positivity you are embracing. This retrains the brain and body to work in synergy on a soul level. Transformation is a minute by minute, day by day activity that pays off big time!
Transforming  your inner and outer life is a magical experience. In fact, I think it is courageous.
Debra Oakland