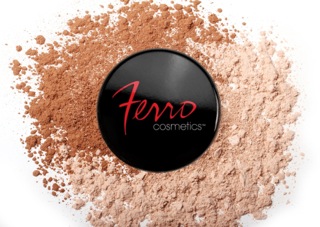 I want to share the amazing line of cosmetics I am using by Krissy and Kami of Ferro Cosmetics. I love the way their products look and feel on my skin and the best part is, they are toxic free! Just an FYI that the website will be shut down for one week in March 2013 for a facelift.
Ferro Cosmetics say it's all about getting real, and their mission for 2013 is the REAL WOMAN. Ferro Cosmetics makes toxic free real mineral makeup that gives women not just the comfort knowing the products are made from only pure & gentle ingredients (in the USA), but high performance color cosmetics that lasts double time. That means leave your makeup bag at home because once applied, the minerals form an invisible layer of soothing protection from the sun, water, wind, rain, and the non-stop day of women today.
What makes Ferro Cosmetics rise above the rest?
– Environmental Working Group & Skin Deep Data Base "CHAMPION" Brand- recognized as one of the top brands for safe ingredients.
– Cruelty Free & ZERO animal testing …. just human animals, who end up looking even better after we pass THEIR test.
– Zero dyes or artificial colorants
– Zero Parabens, fragrance, phlalates, bismuth, or fillers
– Zero chemicals, toxins, or other irritating ingredients
– INorganic- "Organic" does NOT mean natural, and refers to ingredients stemming from only living or plant based. Our products are made from crushed rocks, all ingredients are non-living, so they  are not classified in the "organic" category
– Vegan and Gluten Free
– Women and family owned company
Look Good and Feel Good Because:
– Our products magnify and restore confidence back to women, ESP those who can no longer wear makeup.
– Our company is wildly passionate about giving back and saving lives, working with non-profits like Tembo Trading (recently our donation directly affected and saved the lives of 22 children in Africa, giving 6 young girls and 3 boys surgery that was desperately needed in order to live, and 13 additional children medical attention, medicine, and doctors care that prevented severe illness or death), and FASHION HOPE, whose mission is to stop human trafficking across the globe.
– Sourced, manufactured, and distributed all in the USA
– Eco-friendly choices and operations
Ferro Cosmetics make women look good and feel good several layers deeper than just vanity.
Toxic Free Makeup made with all real minerals, for real women & in their real lives, founded by real makeup artists that know real issues women face every day, all created to match the real skin tones of women across every age, style, and makeup look.