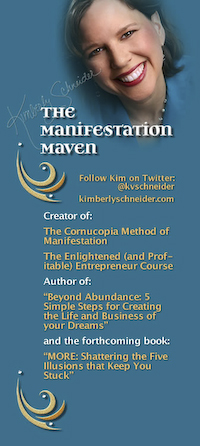 I wanted to introduce you to Kimberly Schneider, The Manifestation Maven, who I had the pleasure of meeting recently. Kimberly is the creator of The Cornucopia Method of Manifestation™, a powerful and proven 5-step process that has helped thousands of people all over North America create more of what they want and less of what they don't in their lives. I love Kimberly's comfortable manner, while relaying very valuable information.
A former trial attorney and psychotherapist, Kimberly especially likes working with live audiences. She specializes in "5-minute life makeovers" because a few minutes are often all she needs to identify limiting beliefs and communicate them in a compassionate yet direct, lively and compelling manner.
Kimberly facilitates www.ManifestationMastermind.com, a teleseminar coaching program, and works with select high-level business coaching clients in her Alchemy of Business, VIP Map a Business in a Day and Day of Transformation coaching programs.
A poet, dancer, world traveler, spiritual adventurer and business alchemist, she lives in the St. Louis area with her husband, two kids and two cats. Kimberly has two extraordinary children, one of whom has special needs.
Visit Kimberly at:
www.facebook.com/kimberlyvschneider