Wouldn't it be wonderful to let our creativity be something that unites us, not separates us?  Welcome creativity flowing in and through your life. We are creators. We are directors. We are the architects of our own lives. How about directing your life by welcoming all the greatness life has to offer you? Trust the hierarchy of your being that will set into motion the great possibilities you dare to dream. Let your brilliant mind express through you everything you can conceive in the future. What you can conceive you can achieve. Let the future come closer to you.
Mom in Disneyland at Tune Town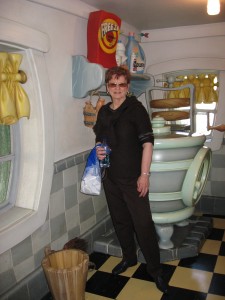 We are all given a divine spark of love and light to basically express the oneness of who and what we are. I am always inspired by Walt Disney, the creation and ongoing creativity during and since his passing. My mother BJ visited from Ruidoso, New Mexico to celebrate 75 years young and healthy.  Mom told me that thinking of going to Disneyland after 20 years made her feel 5 years old again.  We ran around like kids, met 2 wonderful people who surprised Mom and I with lunch and a birthday cake to celebrate.  Thank you Silio and Nikki.  You made our day and gave us memories that will last forever.
Debra Oakland @ Living in Courage Online
All your dreams can come true if you have the courage to pursue them.
Walt Disney