I am a member of Spiritual Cinema Circle.  This review by Stephen Simon says it all.   This is a move that will inspire people to live in courage and to be a beacon to encourage others.
The Blind Side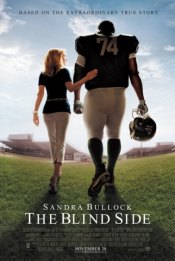 Remember what it was like to go to a movie and cry and laugh and applaud and feel great about just being alive when you walked out of the theater?
I do. And you will, too, when you run as fast as you can to a neighborhood theater to see The Blind Side, one of the most touching, wondrous, uplifting, and miraculous movies of the last several years. And, what makes the experience even more delicious is that the film is based on a true story.
Michael Oher was a homeless teenager in Memphis, Tennessee. His father had disappeared when he was a small child, and his mother was such a hopeless drug addict that the state had removed Michael from her custody. He ran away from several foster homes and simply disappeared off the state radar.
Michael was, even as a young teenager, huge and athletic. Through a distant relative, Michael was admitted to a small private high school because the football coach saw Michael's potential as a football player. The coach persuaded the school administration to admit Michael even though his test scores were well below admission standards. Struggling to understand his new environment, Michael was a gentle soul lost in a new world, with no family and nowhere to call home.
Enter Leigh Anne Tuohy, a fiercely independent and outspoken mother and wife, who not only marched to her own drummer, but who heard the music of a completely different band. A chance encounter with Michael on one cold night convinced Leigh Anne to take the shy teenager under her wing, and into her home and family.
A shy, homeless, and frightened African-American teenager moves into the home of a white, wealthy Southern family, changing all of their lives forever.
The film is absolutely hilarious, touching, engrossing, and brilliant as it follows Michael through his experiences in high school. (The Blind Side refers to the position that Michael learns to play in football. The offensive tackle protects the blind side of the quarterback.) The family's relentless love and belief in Michael helps him overcome his learning challenges. He also becomes such an incredible athlete that several major universities recruit him.
SPOILER ALERT (This paragraph only): if you don't want to know more of the story before you see the film, please don't read this paragraph. The story does indeed have a fairy tale ending. Michael becomes an All-American at Ole Miss and a first round draft choice of the Baltimore Ravens. Today, he is the starting blind side tackle for the NFL Ravens. Over the closing credits, we see photos of the actual Michael and the Tuohys.
Sandra Bullock was BORN to play Leigh Anne and she is sensational in the role, as is Tim McGraw as her husband, and newcomer Quinton Aaron as Michael. The entire cast is brilliant as is the script, the direction, the photography, and everything else!
The Blind Side is quite simply my favorite movie of 2009 and the kind of film "they" used to make. It makes me absolutely crazy when I see the lamestream critics laud dark, cynical movies and turn up their noses at positive, inspired films about the loving, kind, gentle, and compassionate aspects of our humanity. If that's now considered "sappy", then I am a human maple tree and proud of it!
The Blind Side is a throwback to a time when movies illuminated the beauty of life, rather than glorifying its ugliness. It should be an Oscar contender for Best Picture and I will certainly use my vote in the Academy to nominate it as such.
Please see it right away. Tell your friends and family, too. I absolutely guarantee you that you will laugh, cry, and feel goose bumps for 2 hours. And you just may love being human a little bit more when you walk out of the theater. What a gift. What a movie.