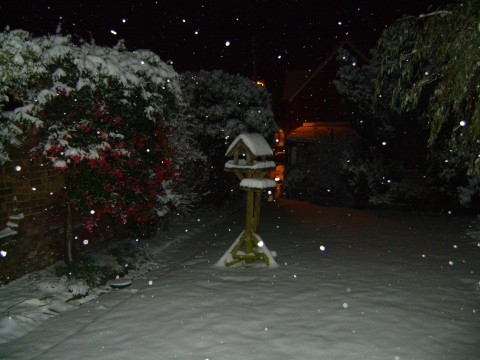 Happy Holidays and Blessings to you for the New Year! I am looking forward with anticipation to the changes 2011 are bringing.  Steve Tallamy and I have decided to co-author a book together.  I have been working on my book for some time, yet it was missing an element I could not put my finger on. My "Ah Ha" moment came while reading the "The Ringing Cedar Book Series."  These books are power packed with information that you will not find just anywhere!  Steve Tallamy has a love and respect for Mother Nature that is all consuming, in a kind and loving way.  As my writing is of a spiritual nature, I knew the book needed to include Steve's insights into the lessons nature holds for us.  Co-creating is fun as well!
I would like to thank Steve for the articles he writes each month for Living in Courage.  Steve will be contributing to my Living in Courage Newsletter, and also shares a daily quote Monday through Friday on my fan page on Facebook for Living in Courage. Here is Steve's December article and a photo of his garden in Poole, England.
A Lesson To Be Learned From Nature
Well, it happened again; Mother Nature sprinkled Poole, where I live, with a couple of inches of snow and the town came to a grinding halt.  Side roads were virtually impassable, schools were shut and transport system (I use the word loosely) disrupted.  It happens at least two or three times every year, but we never seem to be prepared for what some other regions of the world wouldn't blink an eye at.  But I'm not here to talk to you about the deficiencies of my local council, (although if you've got an hour or so to spare then give me a call) I'm going to tell you about what I noticed whilst cocooned in my flat I watched the chaos outside my window.
The birds seemed to carry on as usual; the shrubs continued to bare their berries and looked even more striking with a dusting of the white stuff, shoots searching the light managed to break through the snowy crust that was my garden border and even the insects managed to scuttle around leaving their intricate tracks to show they were still at work.  Nature did not shut down, it continued on its cycle of life as if nothing had happened, despite the cold blanket covering the ground, it continued to do the only thing it knows how to do … survive and grow.
The whole scene seemed to put modern man into perspective, always wanting to have power and control over everything it touches, yet reduced to the role of a meek slave to Mother Nature's elements.  As a race we tend to forget our real roles whilst here on planet Earth and I think there is a lesson to be learned from the way nature focuses in on itself and just gets on with doing what it knows it was designed to do, always giving its best effort no matter what the conditions, but maybe that would be better told in a book, who knows!
I would like to end by wishing every one of you a very happy, safe and healthy Christmas and a very special 2011.  As you will probably know by now, Debra and I are working together on a book and I will also be contributing to her Living In Courage newsletter so I know that my new year will be very special indeed, so Thank You Debra for inviting me to be a part of your life and wonderful new adventure.
See You all soon ….. Steve